Dentist Blog
Posts for tag: tooth replacement
By Rockledge Dentistry
November 21, 2016
Making your smile whole again is a priority after you've lost a tooth. Dental implants not only improve the appearance of your smile, but also
offer a few benefits you may not realize. Dr. Paul Herrera, your Lawrence, KS dentist at Rockledge Dentistry, explains several important advantages of implants.
A total tooth replacement option with your Lawrence dentist
Dental implants offer an innovative way to replace your entire tooth, not just the part visible above your gum line. The tiny titanium implant fills the space in your jaw once occupied by your tooth roots. In just six months or less, the dental implant fuses to the bone, offering a permanent replacement for the roots. Adding a crown to the top of the implant fills the gap in your mouth. Implants are often used to replace one missing tooth, but are also an excellent option if you've lost all of your teeth.
Why root replacement is so important
Replacing the roots of a tooth offers two important benefits:
Increased Comfort: Eating can be agonizing if your dentures slip or your bridge is loose. Every time you eat, your restoration rubs against your gums, creating sore spots. Since dental implants firmly anchor the crowns that sit on top of them, there is no movement when you take a bite and no irritation. In fact, implants feel like any other tooth.
No Decrease in Jawbone Strength: Your teeth roots constantly press on your jawbone and provide stimulation the jaw needs in order to maintain its strength. Losing a tooth doesn't just affect your smile, but also impacts the health of your jawbone. As the months and years go by, the jawbone can become thinner and weaker. If the problem is severe, some of your teeth may loosen, or you may notice that the lower half of your face begins to sag. Dental implants take over for your natural roots and continue to offer the stimulation needed for a strong jawbone.
Dental implants offer the ultimate tooth replacement option! Call Dr. Herrera, your Lawrence, KS dentist at Rockledge Dentistry, at (785) 331-0027 to find out if dental implants are right for you. Don't let a lost tooth ruin your smile.
By Rockledge Dentistry
October 08, 2016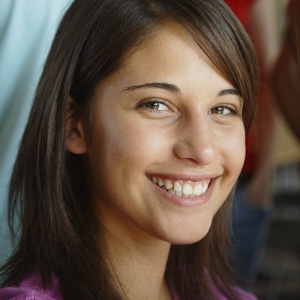 Losing a tooth affects not only your smile but your overall dental health too. A dental implant solves both issues: it replaces the whole tooth, including the root, to merge durability with a life-like appearance.
For teenagers with a missing tooth, however, an implant may not be a good idea, at least until they've physically matured. Although their permanent teeth have usually all come in by puberty, the jaws and facial structure continue to develop into early adulthood. An implant placed too early could appear misaligned when the jaw fully matures.
The best approach for teens is a temporary replacement until they're physically ready for an implant. There are two good options: a removable partial denture (RPD) or a fixed bonded bridge.
Common among adults, an RPD is also a viable replacement for a teenager's missing tooth. An RPD consists of a prosthetic (false) tooth set in a nylon or acrylic base that resembles gum tissue. Metal clips formed in the RPD fit over adjacent teeth to hold the appliance in place; this also makes it easy to remove for cleaning or sleep time. We typically recommend an acrylic base for teens because it's easier to adjust if the RPD's fit becomes loose.
To hold it in place, a traditional bridge uses crowns on either side of the replacement tooth to bond over the natural teeth next to the open socket. Because this requires permanently altering the support teeth, we recommend a bonded bridge that doesn't.
This modified bridge uses wing-like strips of dental material on the back of the false tooth that project outward. With the tooth in place, we bond the extending portions of these projections to the back of the adjacent teeth, which secures the false tooth in place.
Of the two options, the bonded bridge is more comfortable, buys the most time and looks the most natural. But it will cost more than an RPD. Bite issues, teeth grinding, overall gum health or your child's level of hygiene conscientiousness could also nix it as a viable option.
Either choice will effectively replace your child's missing tooth until it's time for a permanent restoration. We'll help you weigh all the factors to determine which one is best for your situation.
If you would like more information on restoration options for teens, please contact us or schedule an appointment for a consultation.