Dentist Blog
Posts for tag: Veneers
By Rockledge Dentistry
December 30, 2016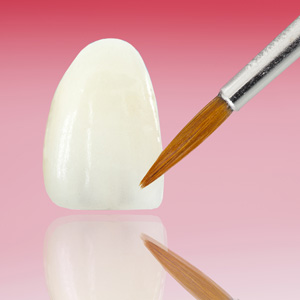 You have a problem with your teeth. Functionally, there's nothing wrong with them — but it's another story when you look in the mirror: discoloration, wearing or maybe a slight gap between them.
Fortunately, you don't have to settle for a smile you're not happy with. Less costly than crowns or bridgework, porcelain veneers can nonetheless correct many mild to moderate cosmetic problems with teeth and transform them into an attractive smile.
Like the name implies, a veneer is made of thin layers of dental material custom-designed and bonded to the outside of a tooth. Veneers can correct problems with color, tooth shape and size, and mild misalignments or spacing. It's akin to installing new siding on a house.
To begin your journey with veneers, we must first examine your teeth to fully assess your dental needs and ensure you have no issues that could prevent applying them. Then, we prepare your teeth: although not to the extent as for a crown or bridge, we must remove a small amount of tooth material so the veneer will appear natural and not bulky.
We then make an impression mold of your prepared teeth that a dental technician will use to create your veneers. During this process they build up layer after layer of liquid porcelain until they achieve the right thickness, shape and color to match your teeth.
In the meantime, we can fit you with a temporary set of veneers made of acrylic plastic so you can chew, speak and smile normally. These provisional veneers also give you and your friends and family a chance to see what your new smile will look like.
When your veneers are ready, we'll create micro-etches in your teeth that will help keep the veneer secure after we've bonded them. Once bonded, the veneer will feel like an inseparable part of the tooth and look it too. No one except you and us need know you're wearing veneers.
If you take care of them — keeping up daily hygiene habits, not biting into hard surfaces, and visiting us regularly for checkups — your veneers can last for many years. And so will that beautiful, new smile.
If you would like more information on porcelain veneers, please contact us or schedule an appointment for a consultation. You can also learn more about this topic by reading the Dear Doctor magazine article "Porcelain Veneers."
By Rockledge Dentistry
May 13, 2016
How porcelain veneers from your Lawrence dentist can help your smile
Do you wish you had a whole new smile with beautiful, perfect white teeth? Instead, is your smile stained, with teeth that are chipped or
worn from aging? It's time to change all that and discover how porcelain veneers can help your smile. You deserve to look your best and that begins with your smile. Dr. Paul D. Herrera at Rockledge Dentistry in Lawrence, Kansas wants to show you why porcelain veneers are the modern, high-tech way to give your smile a whole new look.
When you choose porcelain veneers, you have chosen a versatile solution to fix major and minor problems with your front teeth. Dr. Herrera wants you to know porcelain veneers can correct teeth that are:
Heavily discolored from medications or genetics
Darkly stained and yellowed from smoking or drinking
Gapped or spaced unevenly from genetics
Severely worn and chipped or cracked from aging and overuse
Dr. Herrera wants you to think of porcelain veneers for a special event like a wedding, reunion, or even an important job interview. There's nothing quite as important as a great smile to make a great impression. You can have a whole new smile quickly and easily, just when you need it.
Porcelain veneers are a wonderful solution with many benefits. Dr. Herrera wants you to know porcelain veneers are:
Very natural-looking, because they are made of translucent porcelain
Permanent, because with proper care they can last for many years
Stain-resistant, because porcelain doesn't pick up stains like your natural teeth
Conservative, because Dr. Herrera only needs to remove a minimal amount of tooth structure
It's time for you to get the smile you've been waiting for with porcelain veneers. Give your smile a whole new look by calling Dr. Paul D. Herrera at Rockledge Dentistry in Lawrence, Kansas. Porcelain veneers are an investment you are making in yourself, and you deserve to get the best return on your investment, so call Dr. Herrera today!
By Paul D. Herrera, DDS
March 11, 2015
Do you have troublesome teeth in your mouth that no longer allow you to have confidence in your smile? If so, you're not alone, as many Americans today have unsightly grins characterized by stained, crooked, chipped, cracked, or misaligned teeth. But lasting dental relief can be found with veneers, which are ultra-thin layers of strong and durable porcelain that are placed on your outer
tooth surfaces and sufficiently replace natural tooth enamel with a white-as-snow appearance. For more information on dental veneers in Lawrence, KS please contact Rockledge Dentistry today!
At Rockledge Dentistry, you can experience the significant dental relief found in veneers for yourself, as the expert dental specialists on site make it their mission to provide every mouth with a lasting reason to smile bright! Using specially-created veneers that are custom-designed to accommodate every tooth in need, dentists expertly bond them to your troubled teeth for the most natural-looking tooth-surface covering available today.
Not only are veneers as tough as nails and twice as white, but they don't stain like typical tooth enamel, either. Still, that doesn't mean you can forego normal dental hygiene procedures like brushing twice each day and flossing daily if you're going to maintain those pearly white residents exuding that snowy glow between your lips. Also, attending regular dental check-ups and as-needed cleanings are imperative for the continued success of your veneers.
If you're still not sure if veneers are right for you, check out all that they can accomplish for your teeth below:
Improved Color — Offered in numerous realistic-looking, tooth-colored shades, veneers will improve the color of your tooth's surface.
Perfected Size And Shape — Veneers can be contoured and structured so that they are the perfect fit for your smile and surrounding facial features.
Better Spacing And Alignment — Veneers can shore up those unsightly gaps between existing teeth or improve the current alignment pertaining to all your dental surfaces.
For more information on why veneers offer lasting results for an improved smile that drops jaws and turns heads across Lawrence, KS, give one of the helpful dental specialists at Rockledge Dentistry a call at (785) 331-0027 today!